AT&T Wireless Phone Number
Call AT&T Wireless customer service faster with GetHuman
Current Wait:
37 минут
&nbsp
(33m avg)
Hours: Mon-Fri 8am-10pm, Sat-Sun 7am-7pm EST; best time to call: 8:15am
Get targeted help: Tell us the issue so we get you to right rep, offer relevant tips, reminders & follow-up!
Get to a live person fastest:
Нажмите 0, затем 0 #, затем 0
If you find yourself lost or frustrated, we partner with a California-based expert help company to provide you with tech support 24/7. Enjoy a $1 one-week trial membership and get help from a live expert now.
Click to learn more.
Reasons customers like you called recently
Trying to transfer my AT&T phone number to my new phone that I just got and turned to t...
no mobile internet or phone service
Unlock my phones. Submitted unlock request on the he three phones on my account. Check...
Transfer telephone line
I got a message my international data use was high
HBO max says that they are not getting paid by ATT.**My plan has HBO MAX **I need att t...
about my att internet plan
Would like to see if I can get an extension on my payment until ******** for phone...
iPhone screen is not responding.
Release phone number from business account to allow employee to keep there phone number...
I need to speak to a customer service representative regarding my bill and by suspendin...
I need to speak to someone regarding my billing and reactivating my service. My bill ha...
I need to speak with someone about my billing and about reactivating my service. My Bil...
See more recent reasons for calling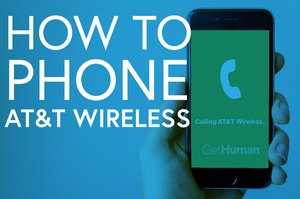 Our Editor's Notes on AT&T Wireless's Phone-Based Customer Care
AT&T Wireless provides wireless services for 162.3 million U.S. subscribers. As a provider of phone services, it isn't at all surprising that AT&T would receive a lot of customer support calls.
Why Do Customers Call AT&T Wireless Customer Support?
Consumers call AT&T Wireless for help with a range of issues, including:
Starting, changing and canceling service
Purchasing and upgrading devices
Technical support
Billing questions and issues
Arranging for equipment returns or repairs
AT&T Customer Service Phone Hours
AT&T Wireless offers phone-based customer service every day from 7 am to 10 pm local time. Customers can call AT&T's toll-free number or simply dial 611 from their AT&T mobile phone.
There is a separate toll-free number for starting new service, and AT&T representatives are available to answer these calls Monday through Friday, 8 am to midnight eastern time. Weekend hours are 8 am to 11 pm eastern time.
AT&T Wireless customers who are traveling and need assistance with their phones can call a separate line 24/7 and people with disabilities or who need TTY services can receive customer support Monday through Friday from 10 am through 10 pm eastern time and on Saturdays from 11 am to 7:45 pm eastern time.
Customers of AT&T Wireless' prepaid service should be aware that there is a different set of phone numbers for their customer service calls, although dialing 611 from an AT&T Wireless prepaid phone remains the quickest way to connect with a live customer support specialist.
AT&T Call Centers
AT&T maintains a network of call centers in the United States and Mexico, as well as other locations outside of North America. The company states on its website that it is committed to developing its customer service talent and promoting from within. To this end, AT&T provides educational benefits, mentoring and career paths to management positions.
How Do Consumers Feel About Calls to AT&T?
As is true of many large companies, the phone-based customer service department at AT&T Wireless has its detractors and supporters. Many people end a call with AT&T Wireless customer service representatives feeling satisfied, though there are cases in which callers are either upset with the service received or find out later that their issue has not actually been resolved.
AT&T Wireless Customer Support Cases in the Media
One case that caught the attention of the consumer advocacy press involved a man who returned a seemingly defective phone to AT&T, which sent him a new one. AT&T, like many companies, has a policy of only refunding the cost of a defective device after the device has been received by the company and inspected.
In this case, AT&T took a long time to issue a refund. The customer became upset and learned that AT&T does not have a dispute-resolution process. Eventually, third parties got involved and secured the refund for the customer.
Other cases addressed online involve billing disputes in which consumers receive conflicting messages each time they call AT&T Wireless customer service. One tip that advocates offer is to get all agreements regarding refunds, plan changes and rate discounts in writing, making it easier to work with AT&T in case of a dispute.
What Can You Accomplish While on the Phone with AT&T Wireless?
Most consumer concerns and issues can be addressed while on the phone with an AT&T Wireless representative. These include:
Purchasing a new wireless plan, updating a current plan, or canceling service
Selecting and purchasing a new device
Getting technical support and information about returning a device for repair or replacement
Make a payment
Address billing and payment concerns
What Can't Be Done Over the Phone?
If a device needs to be repaired or replaced, the representative can provide information on how this can be done, but the phone will need to be mailed to AT&T or brought to a physical location.
What Can You Do About an Unsuccessful Call to AT&T Wireless?
Despite your best efforts, you may find yourself hanging up the phone after a call to AT&T Wireless customer support feeling demoralized. If you were not able to effectively communicate your problem to the support representative, or you were unable to get the service or price you feel you deserve, consider the following:
Wait an hour or two and then call AT&T Wireless again. While waiting, jot down your main concerns and what happened on the last call. Sometimes a different representative is more knowledgable and can get your support case back on track.
Visit an AT&T store and speak to one of the associates about your concerns.
Request a live chat on the AT&T Wireless website. Live chat operators are available every day from 7 am to 1 am eastern time.
Contact AT&T customer service through its customer forums, available through the AT&T Wireless website.
Reach out over AT&T's social media accounts, including Twitter, Facebook, and YouTube.
The last three options provide you with a written record of your conversation with AT&T representatives, something that can be very helpful as you try to resolve your issue.
Customer Number 800-331-0500 - by the Numbers
Номер телефона для набора800-331-0500
Обратный звонок доступенДА
Звонок подхватил реальный человекДА
Отдел вы звонитеОбслуживание клиентов
Часы работы колл-центраПн-Пт с 8:00 до 22:00, в субботу и воскресенье с 7:00 до 19:00 EST.
Лучшее время для набора8:15 утра
Перейдите лабиринт телефона к человекуНажмите 0, затем 0 #, затем 0
Среднее ожидание
Текущее ожидание37
Ранг (среди телефонных номеров)1
Ранг (в целом)1
Альтернативные методытелефон, чат, интернет, фейсбук
Качество связи60%
Качество помощи89%
Голоса клиентов5,109
Информация обновлена в последний разSat Nov 26 2022 10:00:00 GMT+0000 (Coordinated Universal Time)
AT&T Wireless's Best Toll-Free/800 Customer Phone Number
Это лучший номер телефона AT&T Wireless, текущий режим ожидания в режиме реального времени и инструменты для пропуска прямо через эти телефонные линии, чтобы получить право на агента AT&T Wireless. Этот номер телефона является AT&T Wireless лучшим номером телефона, потому что 72,204 клиенты, такие как вы, использовали эту контактную информацию в течение последних 18 месяцев и давали нам свои отзывы. Общие проблемы, решаемые отделом обслуживания клиентов, который отвечает на вызовы 800-331-0500, включают Overcharges on my account, Billing issue, Complaint, Change or cancel service, Service or technical issue и другие проблемы обслуживания клиентов. В колл-центр AT&T Wireless, в который вы звоните, работают сотрудники из India, Philippines, Montana, Colorado, и он открыт Mon-Fri 8am-10pm, Sat-Sun 7am-7pm EST в соответствии с требованиями клиентов. В общей сложности AT&T Wireless имеет 10 телефонных номеров. Не всегда ясно, как лучше всего общаться с AT&T Wireless представителями, поэтому мы начали собирать эту информацию, основываясь на предложениях сообщества клиентов. Пожалуйста, продолжайте делиться своим опытом, чтобы мы могли продолжать совершенствовать этот бесплатный ресурс.
Contacting AT&T Wireless - by phone or otherwise
Хотя 800-331-0500 - лучший бесплатный номер для AT&T Wireless, существует 14 всего способов связаться с ними. По мнению других AT&T Wireless клиентов, следующий лучший способ поговорить со своей службой поддержки - позвонить на их номер телефона 800-756-0134 своего отдела новые клиенты. Помимо звонков, следующий излюбленный вариант для клиентов, которым нужна помощь, - это через 800-756-0134 для новые клиенты. Если вы считаете, что эта информация неточна, или знаете о других способах связи с AT&T Wireless, сообщите нам, чтобы мы могли поделиться с другими клиентами. And you can click here if you want to compare all the contact information we've gathered for AT&T Wireless.
What is GetHuman's Relationship to AT&T Wireless?
In short, the two companies are not related. GetHuman builds free tools and shares information amongst customers of companies like AT&T Wireless. For large companies that includes tools such as our GetHuman Phone, which allows you to call a company but skip the part where you wait on the line listening to their call technology music. We've created these shortcuts and apps to try to help customers like you (and ourselves!) navigate the messy phone menus, hold times, and confusion with customer service, especially with larger companies. And as long as you keep sharing it with your friends and loved ones, we'll keep doing it.