DirecTV Phone Number
Call DirecTV customer service faster with GetHuman
Current Wait:
31 минут
&nbsp
(22m avg)
Hours: 24 hours, 7 days; best time to call: 2:15pm
Get targeted help: Tell us the issue so we get you to right rep, offer relevant tips, reminders & follow-up!
Get to a live person fastest:
Нажмите 1, чтобы заказать новую услугу, нажмите 1 для обслуживания клиентов или нажмите 3, чтобы узнать о текущих акциях.
Reasons customers like you called recently
I was told last week my balance was paid. Now I'm receiving notices that my account is...
My TV is saying I have an over due payment and I just talked to someone last week and s...
want to get some shipping boxes
i call for some shipping boxes with labels they have not come sandra downing need to se...
Tv keeps cutting in and out while watching. Like it's freezing up. And it shows it isn...
Order pay per view movie via phone call (no internet connection). Without paying an ext...
owner removed channel i have been customer for ** years have contract please help
We cannot get NewsMax anymore and that is the only way we have to enjoy our current new...
Since you have cancelled NewsMax ***, I will cancel you in one month unless you reinstate.
I am extremely disappointed in the canceling of Newsmax on Direct TV. Why not cancel C...
I have been trying to get new service for * days now. It seems no one at directv knows...
Why are y'all taking my favorite news show Newsmax off? No notification of any kind. I...
I would like newsmax reinstated on my direct tv as I watch it daily and it is the cable...
I need a new remote control for my main HD Box. Some of the buttons won't function anymore.
I watch newsmax and you removed them from my package. This could be a game changer for...
See more recent reasons for calling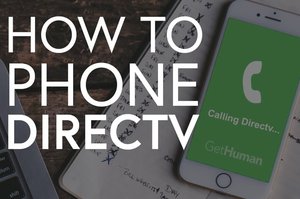 Our Editor's Notes on DirecTV's Phone-Based Customer Care
DirecTV is a provider of satellite television services. Acquired by AT&T in 2015, DirecTV has over 20 million subscribers. Prospective and current customers have the option of setting up new accounts or managing their current services using DirecTV's telephone customer service.
Why Do Consumers Call DirecTV Customer Support?
Consumers call DirecTV customer service for a range of reasons, including:
Ordering new service
Changing or canceling service
Technical issues with current service
Billing issues
While many of these issues can be managed online, some customers prefer speaking with a live person. DirecTV understands this and offers extended hours for customer service calls every day of the week.
When is DirecTV Customer Service Available by Phone?
General customer service and new customer set-up are available every day from 8 am to 12 am eastern time. Technical support is available 24 hours a day, seven days a week. Telecommunication Relay Service (TRS) is also available. This information applies to residential accounts: Business accounts are set up and serviced by a different division.
How Do People Feel About DirecTV Phone Customer Service?
At one time DirecTV was well known for high levels of customer satisfaction and there are many reports online from DirecTV users who are happy with their overall service, as well as their experience with phone-based DirecTV customer service.
On the other hand, some feel that the quality has slipped since the AT&T merger. Some individuals have complained that DirecTV customer service does not provide consistent care to its customers.
Another complaint is that the DirecTV phone systems do not keep appropriate records of calls. Failure to keep detailed call logs can result in customers having to tell their "story" to multiple agents, which can be frustrating.
Media Reports
There have been some media reports about DirecTV offering pay-per-view and sports channel deals and then not honoring the deal, charging the customer instead. In one case, a customer was promised a free sports channel and was charged for it. After requesting cancelation of service, the customer was charged an early termination fee.
Another case involved a customer whose roof was damaged by DirecTV. DirecTV offered to pay for repairs but repeatedly ignored requests for compensation after the customer had hired the approved contractor and paid the repair bill herself. Telephone representatives were particularly inept at handling the case, promising to call back and failing to do so.
In these cases, DirecTV was eventually able to work things out with customers, though third parties had to get involved.
What Kind of Issues can DirecTV Customers Handle Over the Phone?
Many issues, including technical and equipment problems, can be managed via DirecTV's customer service call center. These issues include:
Setting up and changing service
Canceling service and arranging for equipment return
Billing issues
Reports of technical and equipment issues, such as poor reception or sound
Scheduling technician appointments
What Can't be Managed Over the Phone?
While many reception issues can be diagnosed and addressed remotely, others require repairs or equipment replacement. In such cases, a phone representative will help to arrange for a technician visit or a way to send back malfunctioning equipment.
Technical Support Phone Tips
DirecTV advises callers with technical support questions to call from a room where they can be in front of their television set with a receiver in hand. This makes it easier for the representative to work with the caller to determine and, hopefully, resolve any issues with reception and equipment.
General Support Tips
Like many companies, DirecTV can use caller ID to identify you when calling, provided that your phone number is associated with your account. In cases where you are calling from a phone that is not associated with your account, it can be helpful if you have a recent bill handy so that you can provide the representative with your account number.
What Can You Do if DirecTV Phone Reps Can't Help?
Sometimes, and despite your best efforts, you may find it impossible to get your issues resolved with DirecTV over the phone. If you are in this situation, don't fret: You have other options for communicating with DirecTV customer service.
Visit the DirecTV website and request a live chat or post your issue on the site's community forum. Text-based communication has the advantage of providing you with a paper trail, which might be useful in further conversations.
Contact DirecTV on Twitter or Facebook. DirectTV customer service is managed on Twitter by @ATTHelp. As with live chat or community forum posts, social media communication can provide you with a written record of your communications.
Visit an AT&T retail store in your area. Call in advance if you need to set an appointment, or to clarify that their staff can work with you on a DirecTV issue.
Another option is to call back. Customer service representatives are individuals and some may be better than others at understanding and resolving your concerns.
Customer Number 800-756-0134 - by the Numbers
Номер телефона для набора800-756-0134
Обратный звонок доступенДА
Звонок подхватил реальный человекДА
Отдел вы звонитеОбслуживание клиентов
Часы работы колл-центра24 часа, 7 дней
Лучшее время для набора2:15 вечера
Перейдите лабиринт телефона к человекуНажмите 1, чтобы заказать новую услугу, нажмите 1 для обслуживания клиентов или нажмите 3, чтобы узнать о текущих акциях.
Среднее ожидание
Текущее ожидание31
Ранг (среди телефонных номеров)1
Ранг (в целом)1
Альтернативные методытелефон, чат, фейсбук, твиттер, интернет
Качество связи68%
Качество помощи36%
Голоса клиентов74,385
Информация обновлена в последний разMon Jan 30 2023 10:00:00 GMT+0000 (Coordinated Universal Time)
DirecTV's Best Toll-Free/800 Customer Phone Number
Это лучший номер телефона DirecTV, текущий режим ожидания в режиме реального времени и инструменты для пропуска прямо через эти телефонные линии, чтобы получить право на агента DirecTV. Этот номер телефона является DirecTV лучшим номером телефона, потому что 226,548 клиенты, такие как вы, использовали эту контактную информацию в течение последних 18 месяцев и давали нам свои отзывы. Общие проблемы, решаемые отделом обслуживания клиентов, который отвечает на вызовы 800-756-0134, включают Cancel Account, Dispute a Charge, Service Outage, Technical Support, Payment Inquiry и другие проблемы обслуживания клиентов. В колл-центр DirecTV, в который вы звоните, работают сотрудники из Colorado, Idaho, Montana, Texas, Oklahoma, Philippines, и он открыт 24 hours, 7 days в соответствии с требованиями клиентов. В общей сложности DirecTV имеет 7 телефонных номеров. Не всегда ясно, как лучше всего общаться с DirecTV представителями, поэтому мы начали собирать эту информацию, основываясь на предложениях сообщества клиентов. Пожалуйста, продолжайте делиться своим опытом, чтобы мы могли продолжать совершенствовать этот бесплатный ресурс.
Contacting DirecTV - by phone or otherwise
Хотя 800-756-0134 - лучший бесплатный номер для DirecTV, существует 11 всего способов связаться с ними. По мнению других DirecTV клиентов, следующий лучший способ поговорить со своей службой поддержки - позвонить на их номер телефона 800-531-5000 своего отдела Обслуживание клиентов. Помимо звонков, следующий излюбленный вариант для клиентов, которым нужна помощь, - это через 800-531-5000 для Обслуживание клиентов. Если вы считаете, что эта информация неточна, или знаете о других способах связи с DirecTV, сообщите нам, чтобы мы могли поделиться с другими клиентами. And you can click here if you want to compare all the contact information we've gathered for DirecTV.
What is GetHuman's Relationship to DirecTV?
In short, the two companies are not related. GetHuman builds free tools and shares information amongst customers of companies like DirecTV. For large companies that includes tools such as our GetHuman Phone, which allows you to call a company but skip the part where you wait on the line listening to their call technology music. We've created these shortcuts and apps to try to help customers like you (and ourselves!) navigate the messy phone menus, hold times, and confusion with customer service, especially with larger companies. And as long as you keep sharing it with your friends and loved ones, we'll keep doing it.